Why We Do What We Do
By Ron Barry
Flying over a silhouetted Manhattan as a 5:45 sunrise creeps above the Atlantic Ocean can give one pause for reflection.  As I observed this unexpected pleasure recently (as a night owl, any morning pleasure is generally unexpected), I found myself doing just that.
Specifically, the reflection focused on this: Why do I do what I do?  But, as often happens with one so used to working within the confines of a great team, the question morphed into: Why do we do what we do?
The answer was largely supplied by the reason I was awake that early in the first place.  I was returning from the 2018 National Baseball Hall of Fame induction ceremonies, and a 5:30 a.m. flight was the first one out of Albany, New York on this Monday.  As lifelong baseball fans, my son and I had finally made our first pilgrimage to Cooperstown, initiated by the semi-miraculous fact that his favorite player – Chipper Jones – and my favorite player, former Detroit shortstop Alan Trammell – were somehow going to be inducted on the same day in the same ceremony.  It was as if God himself was saying, "If you boys are ever going to go, you have to go now!"
So we did.  And what we experienced, along with an officially estimated 53,000 other people that weekend, was the almost indescribable atmosphere that just seems to happen whenever human beings gather to celebrate the greatest sport of all time: Baseball.
Cooperstown itself is not even actually a town.  It's a village, nestled in quaint, farm-dominated, midstate New York between two actual towns, Otsego and Middlefield.  Its listed population is 1,852.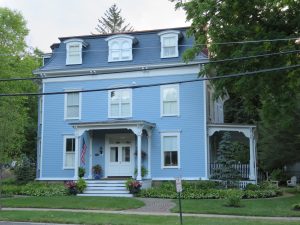 It isn't equipped to handle 53,000 people, especially when most of those have never been there before and have no idea of the general lay of the land.  Consequently, there were cars everywhere, tour buses, motorcycles, and outlandish RVs.  It could have been an absolute madhouse – but these were baseball people, so there was an unusually pleasant decorum that just seemed to hang over the place.
And when those 53,000 gathered for the Sunday afternoon ceremony – well, let me just say that we had church.  Inspired the day before by the 2018 Ford C. Frick Award winner Bob Costas – a deserving broadcaster is inducted into a special wing of the Hall each year – this crowd was ready to salute the six exceptional former Major League players who were about to be added to sport's greatest roster: Jones, Trammell, Jack Morris, Vladimir Guerrero, Trevor Hoffman, and Jim Thome.  It was a virtual baseball Woodstock, held not far from the infamous rock festival.
It was all about baseball.  And the stories we heard about family bonding, the sacrifices of coaches and teammates, the work ethic instilled in the inductees, and the pure joy that could be mined from these experiences – all for the love of the game – it soon became even clearer to me why I had come.
Because the memories shared by Costas and the players were my memories, too.  They were my son's memories.  They help construct the memories of most of the sports fans in America.  And on that plane the next morning, over Manhattan, reflecting… this is why we do what we do at the Sportsplex.  We are a provider of those same memories for the future generations: families together; youngsters learning the greatest game ever developed; getting outdoor exercise in a world otherwise filled with Playstations and X-Boxes; and sharing these bonds with people from all over the place.  Because baseball.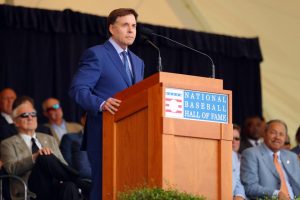 "I stand here as thrilled and excited as a kid attending his first Big League game," Costas said, beginning his remarks.  "But now I bring with me a lifetime of baseball memories.  Those memories, those moments, and the people connected to them, are very much in my thoughts today, especially my family and close friends who are here with me."
And as many local St. Louis Cardinals fans can nod in agreement, Costas spun his stories of sitting outside in the family car at night as a kid, turning the radio dial until he could find a game.  "On those evenings when the atmospheric conditions were just right, KMOX would magically appear out of St. Louis, bringing with it the dynamic pairing of Harry Caray and Jack Buck, each distinctively great: Harry, booming and bombastic, a showman; Jack, more sophisticated and more restrained, possessed of a dry wit and a wide broadcasting range that included the ability to capture and amplify a game's most exciting and important moments."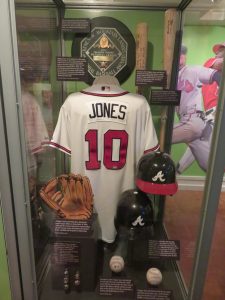 Story after story followed, told with the intelligence, flair, and passion that have elevated Costas to the highest level of broadcasting.  He joked about working with Bob Uecker, Vin Scully, Dick Enberg, and others.  He perfectly described the behind-the-scenes choreography that brilliantly brought us Kirk Gibson's 1988 World Series pinch-hit home run for the Dodgers.  But then…
"The richness of its fabric, the depth and significant magnificence of its history, the generational connections – they ALL set baseball apart… No game has more good stories to tell than baseball."
Costas continued.  "I've had a very fortunate career filled with vivid experiences – the Olympics, the NBA, HBO, you name it.  I've enjoyed and appreciated them all.  But for me, baseball has always come first."
As I watched and listened, with my son just a few feet away, I realized that this sport creates those memories in ALL of us.  Playing catch in the yard; listening to games on the radio, or watching them on TV; seeing a Major League stadium for the first time, often on a trip with family or baseball teammates; the smell of the grass, of your glove, or of a nearby concessions stand.  These are pleasant memories that can sustain people for a lifetime.
And THAT's why we do what we do here.  You're always welcome to join us.