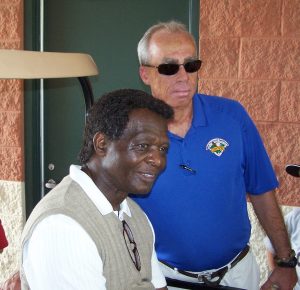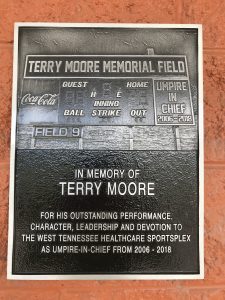 Terry Moore
West TN Healthcare Sportsplex Umpire In Chief
2006-2018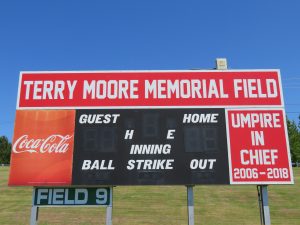 Tax Deductible Donations can be made to The Terry Moore Scholarship Fund by mailing it to Sports Hall Of Fame

PO BOX 10085

Jackson, Tennessee  38308
ATTN:  Terry Moore Scholarship Fund
2019 DISTINGUISHED SERVICE AWARD WINNER (13:35 IN VIDEO)

Thanks to all who contributed to the Terry Moore Scholarship Fund. Since the Tournament on May 31st, a little over $1,000 was raised to fund the next scholarship for a local Jackson graduating senior.
TERRY MOORE (1959-2018)
Terry Moore was an icon in the youth and community sports scene in west Tennessee for decades, literally until the day of his sudden death April 17, 2018, after completing another night of supervising Little League play at the West Tennessee Healthcare Sportsplex.
Moore was that facility's Umpire-in-Chief from its opening tournament in the summer of 2006 until his death.  He enlisted, mentored, supervised, and assigned all the umpires and scorekeepers for the Sportsplex, as well as for numerous baseball, basketball, softball, and volleyball leagues throughout this area.  If there was a sporting event in west Tennessee on any given day or night, odds are good that Moore had a hand in training, supervising, or assigning one or more of the officials involved.
At the Sportsplex, Moore was known for being far more than the Umpire-in-Chief.  He befriended virtually everyone who worked there, even though most were seasonal employees that only worked on weekends or an occasional weeknight.  If there was inclement weather in the area, he was often helping direct grounds crew members to the most necessary destinations.  He'd help provide golf cart rides to senior citizens who were there to watch their grandchildren play.  He'd check to see if teams receiving awards knew where to go to get them.
Many of Jackson's surrounding towns had officials at their games because of Moore's diligence in training and assigning them.  For years, he umpired and refereed himself, including more than a decade of high school volleyball for the TSSAA.  He worked with leagues that played throughout Madison County as well.
While managing all of these feats, Moore never missed a beat following his beloved St. Louis Cardinals, either by phone alerts, Sportsplex televisions, or remote radio calls.  When he had spare time, he was an avid hunter, spending many early mornings throughout the wooded areas of west Tennessee.
Moore always had a kind word for the players he encountered along the way, and was quick with a laugh to try to brighten everyone's day.  The flagpole area at the Sportsplex became a popular gathering place, because that's where Terry was most likely to hang out during a tournament, ready to move in a variety of directions for whoever needed his help next.
His son Garrett Moore and stepson Brandon Woods have been involved in trying to carry on Terry's legacy through their own involvement with the leagues and places he worked with and in.